This week, DxContinuum was among a group of 20 companies that launched new applications on the Salesforce Wave Analytics platform. The DxContinuum app is called Fathom, and it was released at a special event put on by Salesforce as part their Salesforce After Dark series.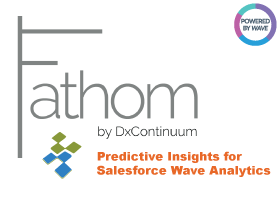 One of the challenges of being a new company is getting our message out to people who don't know about us, and this was the perfect opportunity to do so. We spent the evening with about 200 other attendees on Pier 15 in San Francisco with a gorgeous view of the Bay. It's a place that evokes its history as a welcoming beacon for new arrivals.
Among the most famous of those arrivals were the 49ers – not the football team, but the hordes who arrived in San Francisco during the Gold Rush. Most of these new arrivals sought their fortunes as miners in the nearby gold fields, and they equipped themselves with the best tools of the day: pickaxes, dynamite and sieves.
Today, the search for gold has become the search for insights in your data. Much as the hydraulic mining rigs of the 1850s revolutionized gold mining, analytics software is revolutionizing sales and marketing in Silicon Valley and around the world. Salesforce is embracing the power of analytics to equip these modern day gold miners for success, and we at DxContinuum are happy to bring a powerful new application to their toolkit.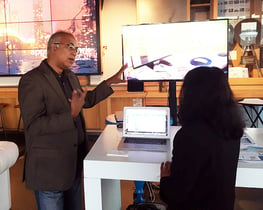 Throughout the event, we spoke to dozens of people and provided demos of our new application. It was a fantastic experience to be among the featured applications showcased at the event, and to meet so many people who were interested in Fathom. It was a great opportunity to showcase our company, our products and our strong partnership with Salesforce.
As the evening wrapped up, people set off to their own private gold fields of sales and marketing data. But on this night they took with them new knowledge about the ways DxContinuum delivers predictive analytics on the Wave Analytics platform.
Learn more about the new DxContinuum Fathom app here, or check us out on the Salesforce AppExchange.