As followers of sales and marketing technology know, predictive analytics is an emerging market space. One of the biggest challenges in a new market is simply defining it. For the past few years, predictive analytics offerings for sales and marketing teams have been coming to market rapidly, but there hasn't been a good definition of the space.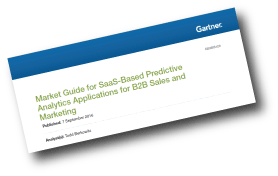 This week, Gartner released an update to one of the first and most comprehensive market guides for predictive analytics solutions. The 29-page report defines this new market space and profiles all the major players, including DxContinuum. While the report is only for Gartner clients, author Todd Berkowitz mentioned in a companion blog post that he sees predictive analytics providing tremendous value to companies, and that the overall market space will dramatically increase in value over the next few years. He also drills into the many different uses for predictive analytics.
As Berkowitz explains, lead scoring used to be the main use for predictive analytics, but predictive capabilities are now impacting a much wider range of sales and marketing priorities. Gartner says this expanded use of predictive analytics, as well as the number of new companies in the space indicate a tipping point.
DxContinuum is one of the standouts is this emerging market space, and we are happy to be recognized by Gartner for our pioneering work with customers like Adobe, Cisco and VMware. If you are a Gartner client, check out the report, or read Berkowitz's blog to learn more about the exciting growth of this space.