In the B2B software business we often find ourselves discussing the infrastructure that ties together systems and processes. The messy reality can be quite complex, so to streamline conversation and planning we tend to simplify concepts. For example, consider what is meant when people talk about the "cloud."
One area that gets particular attention is the code that is shared across different applications and data sets. This is often referred to as a "platform" because you can visualize it underneath other things, and you can picture stacking things on top of it.
DxContinuum has been described by some as a platform because our software works behind the scenes to provide predictive models and analysis to sales, marketing and services teams. But we prefer to think of ourselves as an engine -- which is why we refer to our core technology as the Fathom Engine.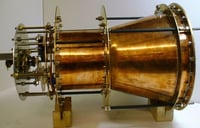 Platforms are important and necessary, but engines change things. Engines power action. Engines transform the world. The transformative impact of the railroads couldn't have happened without the steam engine. Electric motors revolutionized automation across nearly every aspect of modern life and continue to do so with every Tesla that rolls off the line. And even now there is excitement about a so-called "Impossible" engine that may radically transform our concept of space travel.
For those looking to use the power of predictive analytics and machine learning to drive change and action in their business, the concept of an engine just seems more appropriate. That's what we've built here at DxContinuum, and that's what our customers are using to accelerate success across many different dimensions. For example:
A major global software provider gets significantly more revenue with fewer resources.
A leading technology provider identifies and captures new opportunities within its existing customer base.
A global marketing team focuses spend and resources on campaigns that convert more rapidly to closed business.
To learn more about DxContinuum's Fathom Engine, check our video or just give us a call (+1 510-747-9550). Whether you're a potential customer or just curious, we're eager to talk.