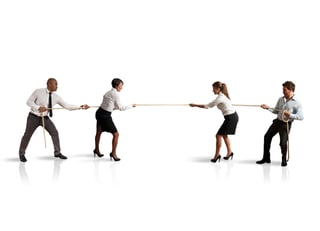 Recently, Forrester Research analysts spoke with the CEO of a company who grumbled about the dozens of calls he receives from salespeople each week that land in his voicemail. He said, "They clearly don't even understand what business we're in" and "They should know that their subject was for a person three layers below me."
When conducting a workshop on aligning their sales force with executive buyers later the same day, it was interesting to discover that this company's own inside sales team has a performance metric of making a minimum of 100 outbound calls to targeted executive buyers per rep per day.
It's not just the ability to talk about solutions. You need to know which are your best prospects and when to contact them. Meanwhile, you need to know what to put on the back burner that may not close this quarter or may never close.
You already have a lot of data about your customers and prospects in your Salesforce or other CRM software that you can use to inform your decision on who to call.
Using a propensity to purchase is one way to help guide salespeople on when is someone ready to buy. And sales management want to see roll ups of what is most likely to close for each quarter, product, geography and sales person.
This webinar will provide a framework and tips for salespeople to make the most of sales analytics so you can prioritize your time, close more sales and improve sales velocity with B2B buyers – and even get fussy B2B buyers to answer your calls.
Our guest speaker, Dr. Mary Shea, is a Forrester principal analyst serving B2B Sales and Marketing Professionals. In this role, she writes about and advises clients on sales enablement strategies, execution, and technologies and how to address change in the age of the customer.
Click here to watch the recorded webinar.